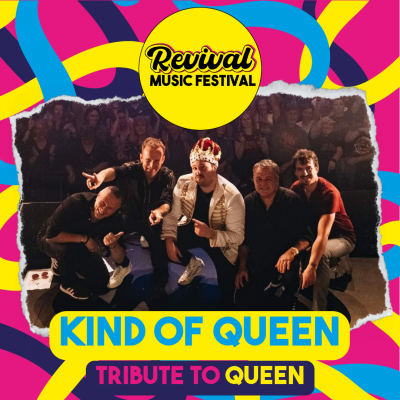 QUI SONT KIND OF QUEEN ?

Originaires de Saint-Lô, KIND OF QUEEN s'est engagé sur la voie de l'intensité, de la nuance, de la grandeur et de l'énergie dégagées en studio et sur scène par QUEEN.

A QUOI S'ATTENDRE SUR SCENE ?
De WE WILL ROCK YOU à WE ARE THE CHAMPIONS en passant par ANOTHER ONE BITES THE DUST, THE SHOW MUST GO ON ou encore le majestueux BOHEMIAN RHAPSODY , les cinq talentueux musiciens de KIND OF QUEEN vont vous faire revivre la magie et la beauté d' un concert du groupe de Freddie Mercury !
~~~~~~~~~~~~~~~~
KIND OF QUEEN EN LIVE AU REVIVAL MUSIC FESTIVAL :
On retrouvera le groupe :
Au Revival Music Festival de Hauteville-sur-Mer
le Vendredi 21 Juillet 2023 à 21h15
Au Revival Music Festival au Lac de Carcans
le Vendredi 1er Septembre 2023 à 23h00
Au Revival Music Festival à La Bourse du Travail de Lyon
le Vendredi 3 Novembre 2023 à 23h00